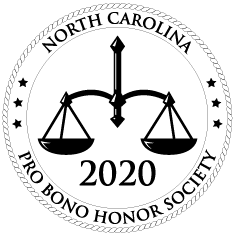 Attorney Rachel Hamrick Inducted into the 2020 North Carolina Pro Bono Society
Attorney Rachel Rogers Hamrick has been inducted into the 2020 NC Pro Bono Honor Society.
"Many North Carolina attorneys recognized the needs brought about by COVID-19 and provided pro bono legal services to help ensure that 'justice shall be administered without favor, denial, or delay,' as is mandated by our state's Constitution," said Chief Justice Newby. "The Supreme Court of North Carolina looks forward to celebrating the sincere efforts of North Carolina lawyers in pursuit of equal justice for all."
Rachel, along with 588 other attorneys across the state, was selected based on performing at least 50 hours of pro bono work in 2020.This year's group of the Honor Society provided nearly 55,000 hours of pro bono legal services in 2020 to North Carolinians living in poverty. In all, more than 5.5% of active attorneys in North Carolina shared information about their pro bono volunteerism, together providing more than 67,750 hours of pro bono legal services in 2020.
"Pro bono lawyers stepped up to assist North Carolinians in a time fraught with unprecedented challenges," said PBRC Director Sylvia Novinsky. "I am inspired by the willingness of attorneys in our state to help those sharply affected by the pandemic's economic and health impacts."
In addition to volunteering with family law cases, Rachel is the vice chair for the Mecklenburg County Pro Bono & Legal Recruitment Committee.
Fifty annual hours of pro bono legal services is an aspirational threshold set by the North Carolina Rules of Professional Conduct. Congratulations, Rachel!
« Back to News